2023 Stars & Stripes Days Parade Registration
Tuesday, July 4, 2023 (12:00 PM - 1:30 PM) (CDT)
Description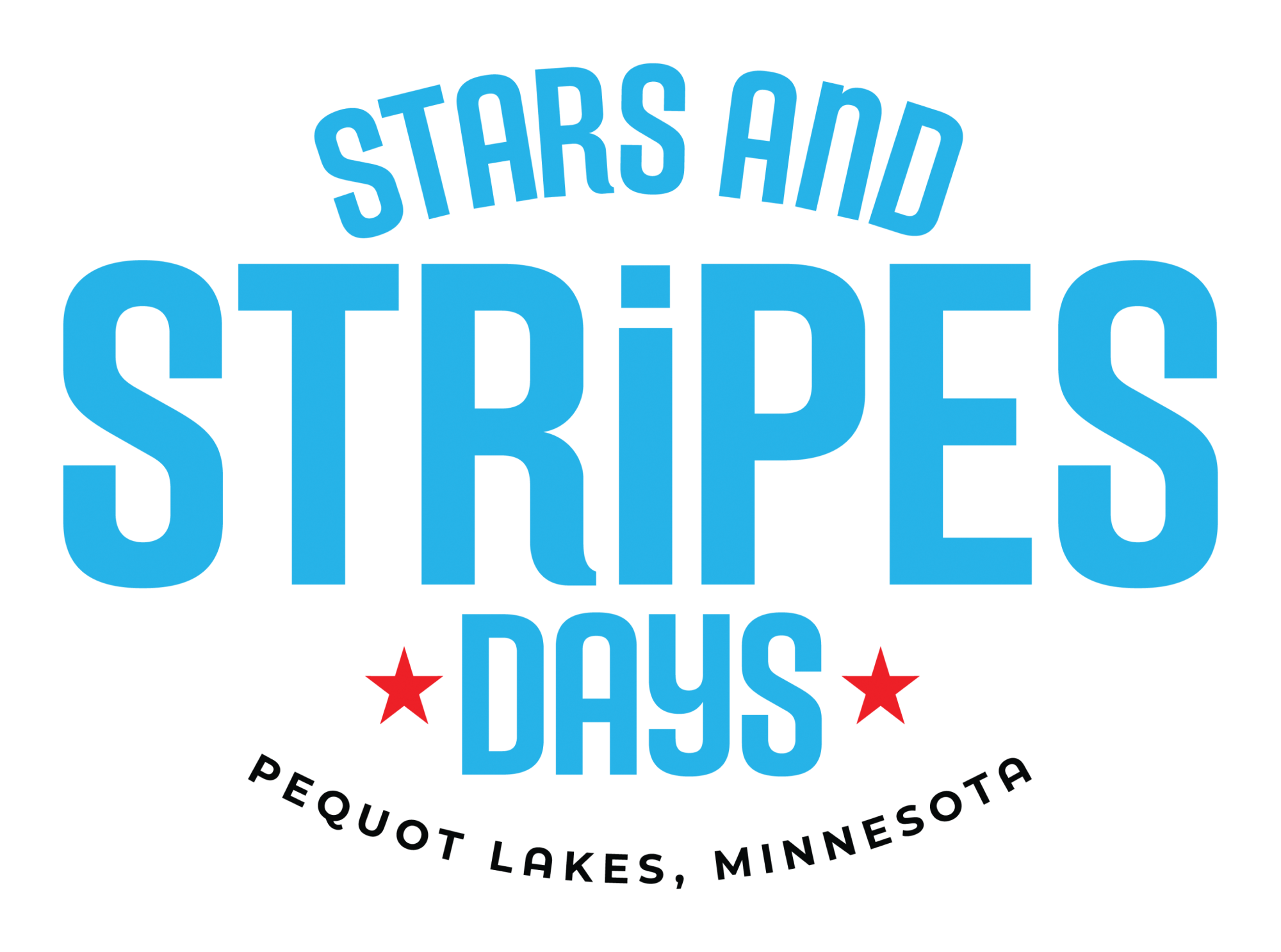 CALLING ALL PARADE & FLOAT ENTRIES!
Time // The parade will commence precisely at 12:00 PM noon regardless of weather.
Parade Lineup // Check-in: 10 AM- 11:30 AM - NO EARLY ARRIVALS
Sponsor and Parade Line-Up Area // Platinum, Band, Titanium, Pit Crew, Gold, Silver and Bronze Sponsors line up in the Pequot Lakes Middle School Parking Lot starting behind the school.
You must enter this area from the east entrance (West Woodman Street). Parade volunteers will check you in and give you instructions where to proceed to park so you're with like sponsors or general parade entries. You will also receive your float number that will need to be placed on your vehicle. Parade entries with music will be lined up separately so they can be integrated with the non-music entries.
Parade Participant Parking & Shuttle Service
Parade participant parking will be at the Pequot Lakes High School Parking lot. Enter from West Lakes Street.
Parade Route
The parade will begin from behind the Pequot Lakes Middle School onto South Oak Street. Head north to Brown Street (turn right). Turn left onto Front Street. Turn right onto East Sibley Street. Turn right onto Government Drive. Turn left onto Main Street. Turn right onto North Washington Avenue. Turn left onto East Woodman Street. Parade route ends at the Pequot Lakes Middle School parking lot.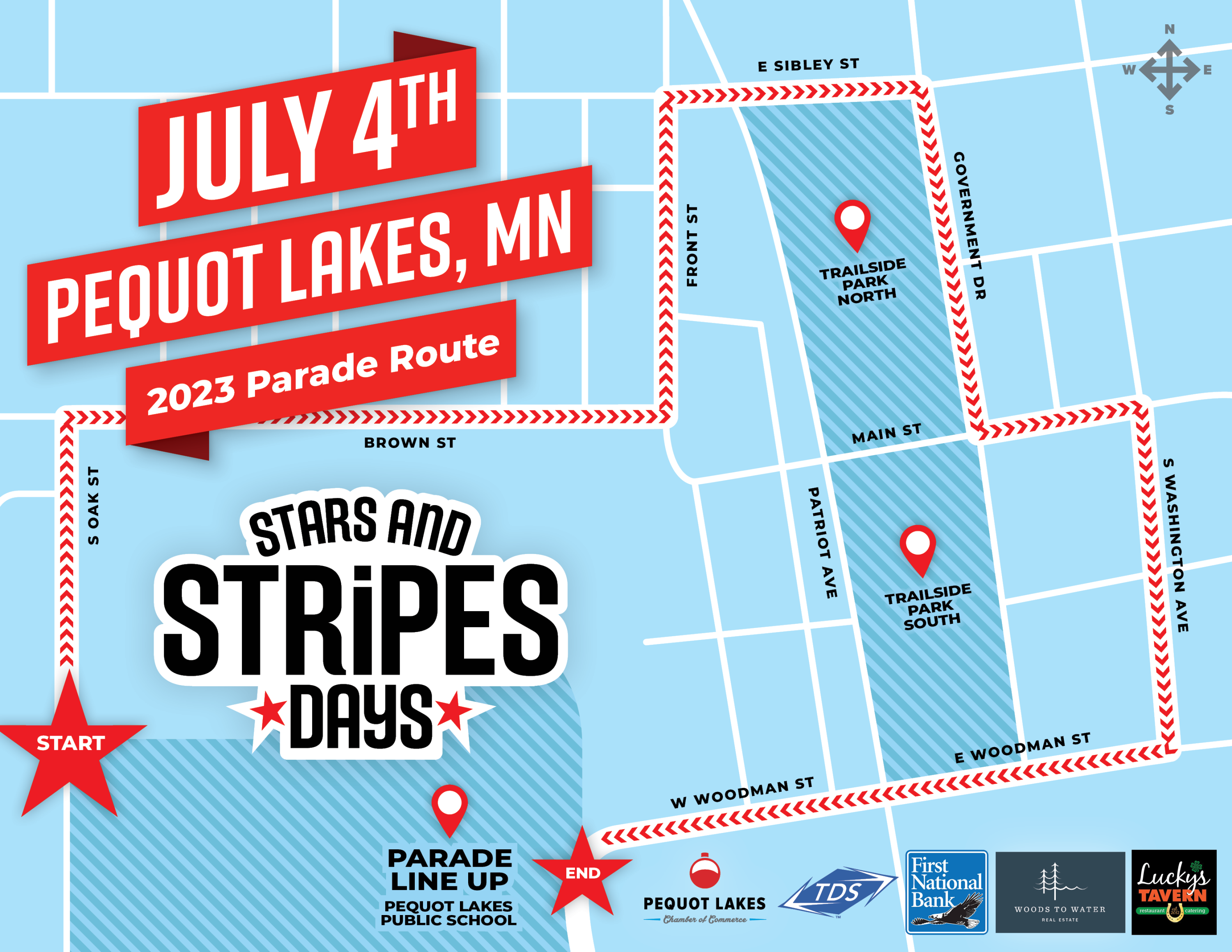 Parade Rules
1. The deadline to register your float is June 30, 2023. Participation may be denied to units registering after this deadline.
2. THERE IS NO PARKING AREA FOR PARADE PARTICIPANTS AT THE PARADE STARTING AREA. Please park extra vehicles in the Pequot Lakes High School parking lot.
3. No more than 2 units may represent any business. You must arrive together in order to be together. We will not save space.
4. Parade Judges are located on a trailer on the west side of Government Drive. Trophies are awarded to the best for-profit business float and the best non-profit organization float judged on enthusiasm, float or entry design. Judges will accept bribes, although bribes will not be taken into consideration for judging.
5. Each unit must maintain its assigned position throughout the entire parade and keep a distance of not less than 20 feet and no more than 30 feet from the preceding unit. Always maintain your spacing – do not bunch up, do not lag behind. Everyone must proceed in a forward motion no faster than 5 mph. At no time may any vehicle backup.
6. NO semi-trucks will be allowed; they cannot make the corners on the parade route. No "genie" lifts or bucket type trucks are allowed in the raised position. A vehicle pulling a trailer can not exceed 50 feet in length.
7. If approved, all animal units must provide their own clean-up crew, or you will not be allowed to enter the line of march. All animals must have updated vaccinations and be in good medical health and be able to cope with crowds, noise and other animals. The Parade Committee reserves the right to bar from the parade any animal, horse or rider deemed unsafe to other riders or spectators. All animals and horses must be in the control of the handlers at all times. Please contact Nichole Heinen at (218) 568-8911 for all animal entries.
8. Each float/truck driver must be the holder of a valid driver's license, vehicle insurance and a current registration of said vehicle. Proof of insurance is required for parade participation and a valid certificate must accompany the parade application. A float/truck driver must stay with the float at all times, including when at the line-up area. ALCOHOL IS PROHIBITED ON PARADE ENTRIES AND VIOLATORS WILL BE PROSECUTED IN ACCORDANCE WITH MINNESOTA STATE LAW.
9. Every vehicle is required to have a spotter in the passenger seat to assist the driver by watching for pedestrians, children, floats that have stopped and corners that may be a sharper turn.
10. We encourage handing out candy and prizes; however, to ensure the safety of the parade spectators, THROWING OF CANDY OR PRIZES FROM PARADE VEHICLE or FLOAT IS STRICKTLY PROHIBITED! Distributing candy or prizes is permitted by walkers along the shoulders of the road only.
11. An adult must be on floats where there are children. The ratio of adults to children should be 1:5 for children under age 16.
12. IN CASE OF EMERGENCY, which may require police or fire vehicles, all entries are required to move as far to the right side of the street as possible.
13. All parade participants shall conduct themselves in a manner appropriate for a family audience of all ages, march in a peaceful and orderly fashion, and participate in a civil manner with respect to other participants and the public. Parade participants shall not use obscenity, profanity, defamation, threats, or fighting words.
Tuesday, July 4, 2023 (12:00 PM - 1:30 PM) (CDT)
12PM on July 4th
Categories
Family Activity
Community Events
Festivals & Celebrations
Area Events