Resort, Campground and Cabin Show
Friday, October 28, 2022 (9:00 AM - 4:00 PM) (CDT)
Description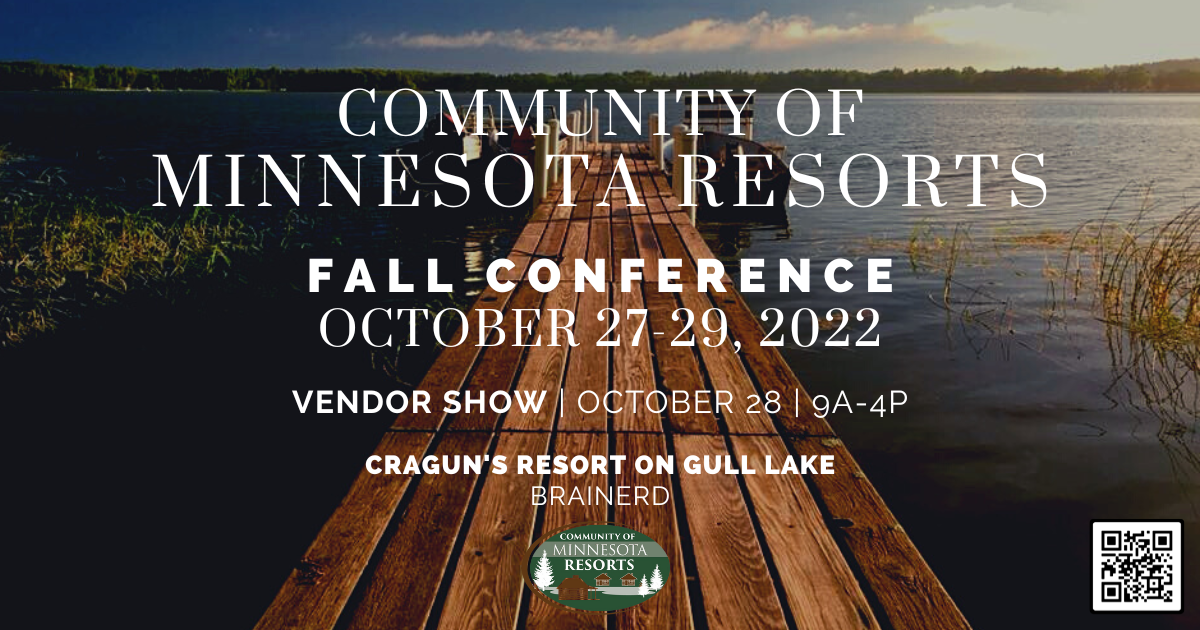 Attend
The Vendor Show is open to the public and free to attend on Friday, October 28 from 9:00am - 4:00pm at the Cragun's Resort Sports Centre.
Who Should Attend?
Owners of resorts, campgrounds, lake homes, and VRBO/rental cabins
Why Should You Attend?
Vendors for the CMR show will be representatives of businesses that work directly with owners of resorts, campgrounds, lake homes and VRBO/rental cabins. Such as: contractors, electricians, property care, lake shore services, banks, insurance, furniture, appliances, and more!
---
Vendors
Promote your business and services to hundreds of owners of resorts, campgrounds, lake homes, and VRBO/rental cabins located throughout the state of Minnesota!
Booth Fee- $800 (8'x10' space; $200 for additional booth space)
Discounted fee for Brainerd Lakes/Crosslake/Pequot Lakes Chamber Members ($500; save $300)
8'x10' booth, two chairs, and an 8' table with a tablecloth. Use your booth to display your products and services to resorts and campgrounds throughout the state and cabin owners from Central Minnesota.
Free electricity at your booth. Please let us know if you need electricity on the Registration Form! CMR event coordinators will assign booth locations.
Welcome packet: Your business name, address, phone number, website, and email address will be included in each resort and campground conference attendee's welcome packet.
Minnesota Resorter Magazine: Your information will also be published in the Minnesota Resorter, our periodical published three times a year. It is distributed to every resort and campground in Minnesota, leading to potential future sales.
You will receive a list of resort and campground attendees registered for the conference.
Lunch-we will provide a box lunch on the day of the Vendor Show (Max 2 per Vendor).
The deadline to register is 10/21/2022.
<CLICK HERE TO REGISTER AS A VENDOR>
<CLICK HERE FOR THE VENDOR REGISTRATION FORM>
---
Attend the 3 Day CMR Fall Conference
This year's Community of Minnesota Resorts conference will be held at Cragun's on Gull Lake Thursday, October 27-Saturday, October 29. Owners, operators and managers of resorts and campgrounds are encouraged to attend the entire conference. Cost to attend is the same whether you are a CMR member resort/campground or not. Non-member resorts and campgrounds that join qualify for the Special First Attendee Offer described below.
Cost:
$200 / Attend all 3 days
$75 / Attend 1 day
New for 2022! Special First Attendee Offer: The admission fee for the first attendee from each individual resort/campground to CMR's 2022 Fall Conference will be credited to your 2023 - 2024 CMR Annual Membership. (NOTE: Credit for first attendee admission fee will not exceed the actual 2023/2024 membership fee for each resort or campground, or up to $200 maximum.)
Conference Schedule (subject to change):
Day 1-
12:00 - 1:30pm Welcome and registration
1:30 - 5:00pm General Sessions / Speakers / Crackerbarrels
5:00 - 6:00pm Check into rooms at Cragun's Resort
6:00 - 8:00pm Poolside entertainment with Magic Nick
Day 2-
7:15 - 8:00am Breakfast
8:00am Silent auction begins
8:15 - 9:00am Resorter of the Year award
9:00 - 12:00pm Vendor show
12:00 - 1:00pm Lunch
1:00 - 4:00pm Vendor show
4:00 - 5:00pm Live auction
4:00 - 5:20pm CMR annual meeting
6:00 - 7:00pm Dinner
6:00 - 7:00pm Casino night
8:30 - 11:00pm Marc Bloomquist hospitality room
Day 3-
7:00 - 8:00am CMR board meeting
7:00 - 8:00am Breakfast
8:00 - 12:00pm General sessions / speakers / crackerbarrels
12:00 - 1:00pm Lunch
1:00 - 3:30pm General sessions / speakers / crackerbarrels
3:30 - 4:00pm Live auction
12:15 -12:30pm Wrap up and door prize
Guest Speakers:
Dick Beardsley- Inspirational speaker, innkeeper and fishing guide
Keila McCracken- Peacemaker Resources at Bemidji University, artisan textile designer and owner of Bare Cloth
Hanna Peura- Business owner of Compass Rose and CMR associate member
Jeff Forester- Executive director of MN Lakes and Rivers
<CLICK HERE TO REGISTER TO ATTEND THE CONFERENCE>
Cragun's Resort on Gull Lake
11000 Cragun's Drive



Brainerd

,

MN

56401

United States



Friday, October 28, 2022 (9:00 AM - 4:00 PM) (CDT)
Categories
Conference
Community Events
Area Events